Riz Transportation is a premier transportation company servicing all counties in Southern California. We specialize in weddings, parties, formals, and corporate events. We also do wine tasting events, Airport drop off/pick ups, and proms. We are your one stop shop for all your transportation needs and carry a wide range of fleet from luxury mid size sedans, SUV's, Sprinters, Shuttle buses, Coach buses, limos, and party buses.
Safety is our #1 priority and all our drivers go through a rigorous training program to meet all safety standards. Our staff is very friendly, courteous, and professional. We take great pride in our customer service and our goal is to make sure you are completely satisfied with your overall transportation experience.
top ranked wedding vendor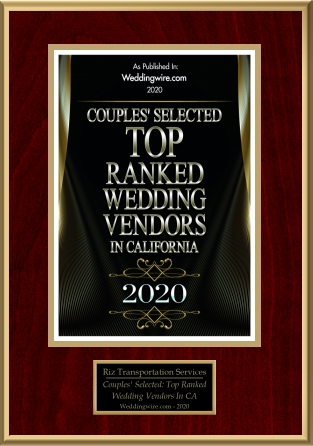 'The WeddingWire Couples' Choice Awards® recognizes the top 5% of local companies and professionals in the wedding industry who show high standards/dependability, quality customer service, responsiveness, and professionalism.

We are proud to be selected as one of the winners for 2020 as the top rated Wedding Transportation Company in Los Angeles,CA. The title gives couples and families the confidence that they are working with a business recognized as the best in the wedding transportation industry and we are ecstatic to be that business.
Whether traveling on business or pleasure, our luxury sedans will get you there in style and on time.
Sit back, relax and enjoy a fun experience in one of our comfortable, clean, well maintained limos.
Party on wheels! Instead of driving around looking for nightclubs, we can have the nightclub come to you and have your own party inside the bus. An amazing experience where you can enjoy great music, great company inside a spacious bus.
Big or small, we can do it all. Want to make sure your guests arrive on time, and get back home safe? We can help you with that. We have tons of experience at almost all venues in southern California and are very familiar with its logistics and the size of shuttles the venue can accommodate.
Choose from one of our luxury limos for your special night. Call us today to make this a very memorable experience. 
Whether it's a business meeting or a company outing, our friendly and professional drivers will arrive early to ensure your utmost care and satisfaction.
Traveling through airport terminals can be very stressful. We can help by providing a seamless, on time, and stress-free pick up/ drop off service. Our drivers are very warm, welcoming, and always ready to help with your bags.
Our goal is to make sure you are completely satisfied with your transportation experience.
See what Our Customers Say About Us